Interior design trends to look out for in 2022
It's always exciting when a new season or year arrives and it's time to update your home décor to fit in with the trends. Our homes are constantly evolving and changing, to fit in with our style, so it is important that we keep our homes up to date with trends as well.
Interior design trends in 2022 –
The predicted trends to look out for in 2022 are all about embracing and re-engaging the world. Patterns, colours, and materials that represent more natural objects are becoming more popular. Here is a list of trends that you might want to incorporate into your home décor.
Natural colours such as creams and browns –
Natural colours are taking over from the pristine whites and greys in 2022. Including the simplicity and calmness of colours and objects that symbolise nature can create a more peaceful home environment. Especially after the craziness of the last couple of years.  
A hugely popular decorative accessory has been dried flowers and grasses. They work great alongside house plants and the aesthetic of your home because they are often cream in colour.   
Nature-inspired objects and surfaces –  
Many people are really liking the natural surfaces, for example, stoneware, marble, and travertine. These materials are being used everywhere from, flooring to, backsplashes, bathtubs, and decorative objects. The imperfect nature of these materials creates visual interest and helps bring the outside vibe inside.  
Home objects are also being made out of these materials, for example, chopping boards, dishes, vases, and so on.  
Sculptural vases –
Instagram has made sculptural vases become a massive trend for 2022 interior design. Their fun abstract characteristics and different designs have made people fall in love with them. Adding a couple of these vases to your shelf can up the wow factor of your space.   
Statement lighting –
People love to add statement lighting because they are very useful. They are both functional and fashionable, they light up the whole area and look like a piece of artwork. And sales have shown that in 2022 a 27% increase of searches has been made for this type of lighting.  
So, hop on the statement piece lighting trend before it's too late.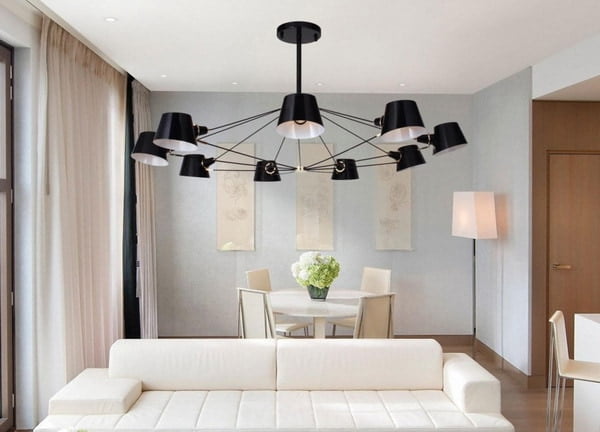 Including shades of green –
After being stuck inside due to the pandemic, I think it has made people appreciate the green and natural colours of the outside. And they now want to include them in their homes. It creates the vibe of bringing the outside in and making a fresh environment.  
Pinterest has seen searches for green interior inspiration increase by 80% this year. This is not a surprise because it is a beautiful colour, and works so well in a home.  
Black accents –
By adding black accents into your home, it adds more edge and depth to more minimal spaces. Especially if you love lighter furniture and elements, it adds the right amount of contrast to the space. You could include this by swapping handles for black ones, putting up a black mirror or just having black ornaments around the house.    
House plants –
House plants will always be a popular trend because they are so beneficial to your health. Plants have a calming effect and they help clean the air, so living with plants can be great.