The Need To Know Differences Between A Conservatory And An Orangery
One of the most common questions asked when it comes to a conservatory is, what is the difference between a conservatory and an orangery.  
What Is An Orangery?  
An orangery is a brick structure with large windows and a flat roof with a glass lantern.
They often have the distinctive look of:
Firstly, large tall windows on one side 
A flat roof with a central glass lantern
A heating source such as a stove
Wooden shutters on the windows to retain heat at night
History Of  The Orangery  
The orangery originated from the renaissance gardens of Italy when glass-making technology was upgrading and clear glass was being produced. Typically orangeries were constructed with base and pillars made of brick or stone, with large panes of glass to let in light and warmth. Because of this, their main function was providing delicate, exotic plants with shelter and protection during the winter. 
 However, they were not affordable to everyone. Being made of large amounts of expensive glass, and as homes to exotic plants. The orangery was found in the gardens of wealthy fashionable residences. And they soon became a symbol of wealth.  
Today, orangeries are used less for wintering tropical plants and more for additional living space. However, they retain the classic features such as a solid base and expanses of glass.   
What Is A Conservatory?  
A conservatory is a glass structure with a brick base and a pitched glazed roof. 
What is classed as a conservatory: 
Firstly, a fully glazed structure with low brick base 
The roof is more than 75% glass
The wall must be at least 50% glass
The structure is built against the wall of a house with a closing door or window.
Must have standalone heating source separate from the main house.
History Of The Conservatory  
Conservatories became popular in the 19th century. In 1832, the introduction of sheet glass enabled the development of a fully glazed structure. And as the English fell in love with glass buildings they began to appear in most cities. Just like orangeries, conservatory were standalone structures of great size that housed a collection of exotic, rear plants and sometimes birds and animals.  
 Once the world wars ended the building of glass structures began again. Sunrooms were the first glazed rooms to be built on an ordinary house. A basic structure is attached to the house to take advantage of sun warmth and views from the house. However, they would be very cold when the sun wasn't shining.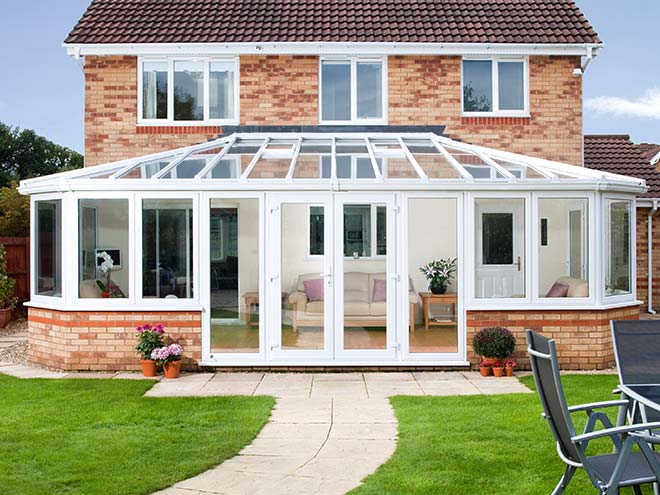 Planning Permission –  
For planning permission purposes, orangeries are considered single-storey extensions. Permitted development rights offer people a lot of possibilities to extend their property without a full planning application. And the rights for a single-storey extension are really generous and allow a reasonable-sized extension. In fact, conservatories also have to follow the same guidelines.  
Does A Conservatory Or An Orangery Add Value To Your Property? 
The majority of homes improvements should add value to your home if it's done at a high standard. A conservatory can add between 5-12% to the value of the property. Whilst an orangery can add ass much as an extension to the property depending on the finish.  
However, when deciding if you want to add a conservatory or an orangery you need to think about what would be the best fit for your current house.  
Although, the two are very similar there are a lot of questions you need to ask yourself to decide the perfect addition to your home. With this in mind, orangeries do tend to be a bit more expensive than a conservatory, but it is important to consider long-term how you will use the space.